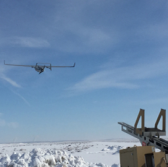 Boeing's Insitu subsidiary and Logos Technologies have conducted an initial flight test of a small tactical unmanned aircraft system equipped with a wide-area motion imagery technology
Logos said Wednesday its Redkite sensor was tested aboard an Integrator UAS in Boardman, Oregon, and the demonstration marked the first WAMI integration into a drone's internal payload bay.
Redkite is designed to help operators detect, track and record movement within a 4.6-square-mile area and store approximately eight hours of geo-tagged mission data in UAS solid state drives.
John Marion, president of Logos Technologies, said weight reductions on Redkite helped fit the entire system inside a tactical unmanned platform that was demonstrated in the sensor's test aboard the Integrator.
Logos Technologies will showcase a full-size model of the new internal payload version of Redkite at the International Defense Exhibition and Conference that will be held from Feb. 19 to 23 in the United Arab Emirates.