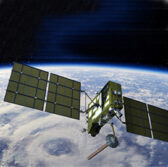 SKY Perfect JSAT Corp. and Kacific Broadband Satellites have selected Boeing to build a satellite that will work to facilitate mobile communication and internet connectivity for customers in the Asia-Pacific region.
Boeing said Monday its 702 satellite will carry two payloads and is slated for a 2019 launch.
SKY Perfect JSAT's JCSAT-18 payload is designed to expand mobile and broadband services for APAC customers while Kacific's Kacific-1 payload is intended to offer Ka-band broadband access in more than 20 countries in Southeast Asia and the Pacific.
Mark Spiwak, president of Boeing's satellite systems international business, said the integrated JCSAT-18 and Kacific-1 satellite will work to support a range of business requirements as well as address the needs of both satellite operators.
Boeing has built 10 satellites for SKY Perfect JSAT subsidiaries JSAT Corp. and Space Communications Corp.