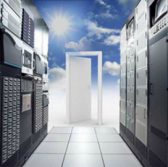 A new HyTrust survey has found that 25 percent of healthcare organizations that adopt public cloud platforms do not subject patient information to data encryption.
HyTrust polled 51 healthcare organizations and biotech firms and found that 63 percent of the respondents plan to use cloud platforms from multiple vendors, the company said in a Feb. 15 news release.
Eighty-two percent of respondents said they consider security as their primary concern and that 38 percent of healthcare organizations have data stored in multi-cloud environments but do not implement encryption measures.
"Multi-cloud adoption continues to gain momentum among leading healthcare organizations," said Eric Chiu, co-founder and president of HyTrust.
"For these care delivery organizations, choosing a flexible cloud security solution that is effective across multiple cloud environments is not only critical to securing patient data, but to remaining [Health Insurance Portability and Accountability Act] compliant," Chiu added.
The survey also showed that Microsoft's Azure, Amazon Web Services and VMware's vCloud are the top public cloud platforms among respondents.