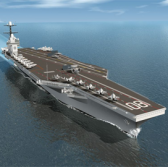 Huntington Ingalls Industries has received a $25.5 million contract modification to start the fabrication process on the U.S. Navy"™s third Gerald R. Ford-class aircraft carrier.
Mike Shawcross, vice president for the CVN 79 and CVN 80 construction at HII"™s Newport News Shipbuilding division, said in a statement issued Wednesday the award covers the production of structural components, pre-assemblies and subcomponents in support of the construction of the Enterprise (CVN 80) carrier in 2018.
Newport News Shipbuilding will perform structural fabrication work at its manufacturing facility in Virginia through March 2018 and integrate build approaches and lessons learned from the construction of Gerald R. Ford (CVN 78) and John F. Kennedy (CVN 79) carriers with the Enterprise ship project.
The modification was made under a potential $152 million contract the Navy awarded in May 2016 for design, research, engineering, development and procurement of long lead-time materials for the CVN 80 construction.