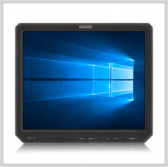 General Micro Systems has received a multi-year contract to provide rugged display devices to the U.S. Navy.
GMS has started to deploy its SD19 SmartView display systems to replace legacy display tools aboard several Navy ships as part of the service branch's fleet modernization efforts, the company said Thursday.
SD19 has an Intel-based computer that runs on Microsoft Windows operating system and a 19-inch touchscreen-based liquid crystal display with night vision capabilities and is based on GMS' RuggedCool technology that works to conduct heat between Intel's Core i7 processor and SD19 case.
The company said its smart display platform also has passed the hammer test in compliance with the MIL-S-901DÂ military specification for high-impact mechanical shock.
The installation of SD19 SmartView devices is a commercial-off-the-shelf computer system update that falls within the Navy's modernization programs that include the Aegis Modernization initiative, which covers upgrades to Aegis weapon systems onboard 84 cruisers and destroyers.