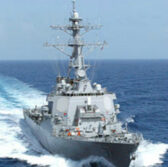 General Dynamics' Bath Iron Works subsidiary has delivered its first Arleigh Burke-class guided-missile destroyer to the U.S. Navy under the service branch's restarted development program for this ship class.
The military branch said Monday the future USS Rafael Peralta underwent a series of at-sea and pier-side trials to check its operational readiness prior to delivery.
"As the 65th Arleigh Burke-class destroyer to join the fleet, Rafael Peralta will continue the proud legacy of this class," said Capt. Casey Moton, DDG 51 class program manager.
The ship's delivery to the Navy Friday follows Huntington Ingalls Industries' delivery of the first restart ship in December 2016.
USS Rafael Peralta features the Aegis Baseline 9 combat system, which incorporates the Ballistic Missile Defense 5.0 and Naval Integrated Fire Control-Counter Air components to deliver integrated air and missile defense functions.
The Navy said the destroyer will enter into service during a commissioning ceremony later this year.