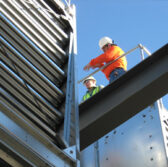 Direct Steel has won a potential 14-month, $10.3 million contract from the U.S. Army to construct a maintenance building, fire pump house and a lockmaster facility at Olmsted Lock and Dam in Illinois.
The Army Corps of Engineers received five proposals for the firm-fixed-price contract and will obligate the full contract amount from the service branch's fiscal 2017 operation and maintenance funds at the time of award, the Defense Department said Thursday.
The contractor will perform work in Olmsted, Illinois, through April 28, 2018.