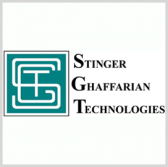 SGT has been awarded a three-year, $45 million contract to supply meteorological observational data from non-federal observing networks to the National Oceanic and Atmospheric Administration.
NOAA plans to use the observation data to support meteorological, hydrologic and related environmental observing systems that are designed to facilitate local-scale weather event prediction, SGT said Monday.
SGT will collaborate with Earth Networks, Weather Telematics, WeatherFlow, Synoptic Data, Sonoma Technology, Panasonic Avionics and the University of Oklahoma on the National Mesonet Program.
Curtis Marshall, manager of the National Mesonet Program at NOAA's National Weather Service, said the observing networks provide "observations from surface and subsurface platforms, vertical profilers and aircraft for improving NWS warning and forecast operations."
Greenbelt, Maryland-based SGT provides information technology, engineering, operations and science services to U.S. government clients for space programs, national security and civilian missions.