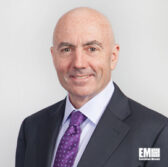 Mark Testoni, president and CEO of SAP National Security Services, has said President Donald Trump"™s administration should reach out to the private sector to address cybersecurity challenges, the National Defense magazine reported.
Testoni told the magazine that "commercial capabilities" will play a significant role in efforts to address cyber issues.
"There are solutions that are being developed in places like Silicon Valley and Austin, Texas and Boston, Massachusetts and a few others that are trying to get at some of these problems and how do we more readily adapt them inside government," he said.
"Bringing the great minds of this country together around this problem is going to be the solution," Testoni added.
Testoni said he predicts the debate over privacy and the use of big data to intensify in the next few years as the number of internet-connected devices continues to rise, according to a report by Ed Burns for TechTarget.
"As public awareness rises, people are going to start challenging the government more," he said.
"It's all about what the information is going to be used for."
He noted that terms-of-use contracts for technology platforms and services should be simplified and should cover conditions on when a company should share user data with law enforcement agencies, the report added.