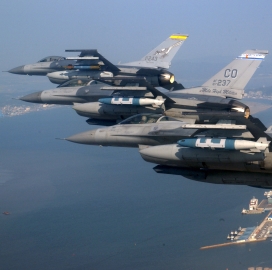 India plans to invite international contractors to submit bids for a program to build a new single-engine fighter aircraft in the country, Defense News reported Tuesday.
Manohar Parrikar, India"™s defense minister, said at a news conference that the government will select a foreign partner to produce the fighter jet based on technology transfer terms and the original equipment manufacturer"™s proposed price, Vivek Raghuvanshi writes.
The Indian air force "will put up a demand for 200 new single engine fighters to be made in India, which will easily cost around $45 million apiece without weaponry," a senior IAF official said.
A top defense ministry official told Defense News the government of India intends to announce a global tender in the first quarter of 2018 and sign the final deal by 2021 once the cabinet approves an Indian private company that will produce the new fighter jets by the end of 2017.
Lockheed Martin and Saab are expected to propose their F-16 Block 70 and Gripen jets for the program, Raghuvanshi reports.
Parrikar noted that MoD will announce by the end of January another single-engine fighter aircraft line to be performed through the Strategic Partnership model, the report added.