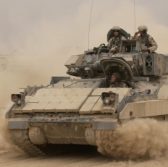 A new report from Strategic Defence Intelligence has predicted that the worldwide market for military armored vehicles and related maintenance, repair and overhaul services will experience a 3.7 percent compound annual growth rate from 2016 to 2026.
The "Global Military Armored Vehicles and MRO Market 2016-2026" report also forecasts the Asia Pacific region will lead the sector with a 26.8 percent market share by the end of the forecast period, Reportlinker said Thursday.
North America and Europe are projected to respectively account for 24.8 percent and 23.9 percent of global military armored vehicles and MRO market by 2026, according to the report.
Strategic Defence Intelligence also predicted infantry fighting vehicles will reach a market share of 32.2 percent, followed by main battle tanks at 25.8 percent, armored personnel carriers at 17.4 percent, light multirole vehicles at 11.1 percent, tactical trucks at 8.3 percent and mine-resistant ambush protected vehicles at 5.2 percent.
The report also includes an analysis of market size and drivers, recent developments, industry challenges, regional highlights and major programs.