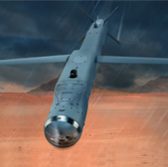 The U.S. Air Force has awarded Raytheon a contract modification with an obligated value of $62.5 million for the low-rate initial production of 312 lot 3 Small Diameter Bomb II munitions.
Raytheon's missile systems business will also provide 24 SDB II weapon load crew and conventional munitions maintenance trainers and 413 single weapon containers to the Air Force, the Defense Department said Friday.
The service branch will also receive 20 weapon conversions for guided test vehicles, 20 production reliability incentive demonstration effort captive vehicles and associated data under the modification.
Work will occur in Tucson, Arizona through June 30, 2019.