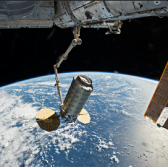 Orbital ATK has delivered the pressurized cargo module for the Cygnus spacecraft to NASA"™s Kennedy Space Center ahead of a scheduled launch in March.
The spacecraft will undergo processing and assembly at the facility and its shipment concludes a new milestone for NASA"™s next International Space Station cargo mission, NASA said Tuesday.
NASA plans to launch the OA-7 mission on March 16 from Space Launch Complex 41 at Cape Canaveral Air Force Station in Florida.
The Cygnus spacecraft will take off aboard an Atlas V rocket with crew supplies, equipment and scientific experiments bound for the ISS.
OA-7 will mark Orbital ATK"™s seventh flight to ISS under its Commercial Resupply Services -1 contract with NASA.
The company completed its sixth delivery mission in November 2016.