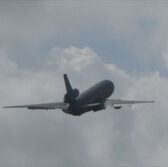 Northrop Grumman has received a pair of delivery orders worth nearly $63 million combined to provide engine overhaul and logistics support services for the U.S. Air Force"™s KC-10 tanker aircraft program.
The company will overhaul 10 KC-10 engines in Vancouver, British Columbia, through Dec. 31, 2018 under a potential $45 million delivery order to a previously awarded contract, the Defense Department said Tuesday.
Northrop will also provide logistics support for the service branch"™s KC-10s at Air Force bases in California, New Jersey, Hawaii, Oklahoma and Japan through Dec. 31, 2018 under a separate order valued at approximately $17.7 million.
The Air Force Life Cycle Management Center will obligate the full contract amount from fiscal 2017 operations and maintenance funds for both delivery orders at the time of award, according to DoD.
KC-10 is designed to perform aerial refueling and cargo transport missions and has a maximum takeoff weight of up to 590,000 pounds.