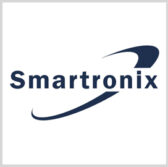 Smartronix has landed a one-year, $26.7 million contract with the U.S. Navy to support the special communications mission solutions division of the Naval Air Warfare Center Aircraft Division.
The Defense Department said Monday that Smartronix will provide services intended to help NAWCAD implement telecommunication and related communications-electronic systems  for data, video and voice information exchange.
Services covered by the contract include analysis, design, development, engineering, evaluation, hardware tracking, installation, integration, logistics, modification, prototyping, testing, training and verification of telecommunication and other C-E systems, subsystems and components.
The Naval Air Warfare Center will obligate $1.5 million in fiscal 2017 Navy working capital funds at the time of award.
Smartronix will perform contract-related work in California, Maryland and Germany through January 2018.