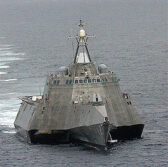 The Department of the Navy has launched a market research effort to determine if two or more companies can help the government manufacture, assemble and test a mine neutralizer system for unmanned surface vehicles.
A request for information notice posted Wednesday on the FedBizOpps website says the Navy plans to add a Barracuda Mine Neutralizer mission module to the LCS mine countermeasure mission package.
LCS will host the Barracuda neutralizers to perform mine countermeasure missions for fleet training as well as conduct neutralization operations from surface through deep water environments via USVs, according to the notice.
The Naval Sea Systems Command issued the RFI on behalf of the service branch's Program Executive Office LCS, Mine Warfare Program Office Directorate.
Interested parties can submit responses through Feb. 8.