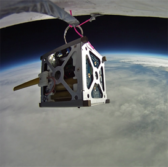 Tyvak Nanosatellite Systems has been awarded a contract to build a series of miniaturized satellites to support missions under NASA's Pathfinder Technology Demonstrator program.
NASA said Wednesday its Small Spacecraft Technology Program will use CubeSats from the company with government-furnished technology payloads to conduct multiple flight demonstrations.
Tyvak will develop a six-unit CubeSat equipped with solar arrays designed to supply at least 45 watts of power while in-orbit with an option to create up to four additional small spacecraft that will carry technology payloads, the agency added.
"The increasing capabilities and resulting significant expansion in applications of small spacecraft represent a paradigm shift for NASA and the larger space community," said Steve Jurczyk, associate administrator of NASA's space technology mission directorate in Washington.
"The satellites will be used to demonstrate and characterize novel small satellite payloads in low-Earth orbit," said John Marmie, project manager at Ames Research Center.
The project seeks to demonstrate the capacity of small spacecraft technologies to foster the development of commercial space capacities for future NASA missions that require advanced control systems for precision point, communications systems and propulsion systems.
NASA added that PTD team leads the Small Spacecraft Technology program while NASA's Ames Research Center and Glenn Research Center manage the program on behalf of the space agency's space technology mission directorate.