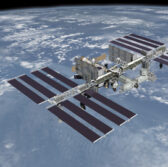 NASA expects SpaceX to deliver supplies, equipment and science investigations to the International Space Station no earlier than February as part of the company's 10th cargo resupply mission.
The space agency said Friday it is still reviewing a possible date launch and time for the launch of SpaceX's Dragon spacecraft with the Falcon 9 rocket from Kennedy Space Center in Florida.
Last year, NASA ordered five additional flights worth an estimated $700 million under the agency's Commercial Resupply Services contract with SpaceX.
The next Dragon flight will carry two medical experiments that aim to grow stem cells and antibodies in the microgravity environment in efforts to treat human diseases such as stroke and cancer, the agency said.
NASA added the spacecraft will transport the agency's Stratospheric Aerosol Gas Experiment III and Lightning Imaging Sensor designed for climate observation.