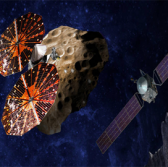 NASA has selected Lockheed Martin to build, design and operate spacecraft that would support research into the bulk physical properties, geology and surface composition of  six Jupiter Trojan asteroids orbiting the sun.
Lockheed said Thursday the Lucy spacecraft will be built through one of NASA's two new Discovery Program missions and that the agency established a $450 million cap for vehicle development.
The Lucy mission is scheduled for a 2021 launch and led by Harold Levison of the Southwest Research Institute.
The space agency said in a separate release that its Goddard Space Flight Center in Maryland will offer management support, mission assurance and systems engineering services to support the mission.
"The design of the spacecraft draws from the flight-proven [Origins-Spectral Interpretation-Resource Identification-Security-Regolith Explorer] spacecraft currently on its way to a near-Earth asteroid," said Guy Beutelschies, director of interplanetary systems at Lockheed's space systems business.
Lockheed aims for Lucy to reach its first destination in 2025 and commence with its exploration of the six asteroids from 2027 to 2033.