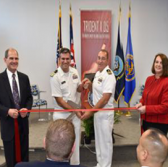 Lockheed Martin and the U.S. Navy have opened a newly-renovated building at Cape Canaveral Air Force Station in Florida to accommodate the company's employees for the military branch's Fleet Ballistic Missile program.
The company said Thursday roughly 200 staff will move into the Engineering and Operations facility over the next few months.
Eric Scherff, vice president for the Fleet Ballistic Missile program at Lockheed, said the expansion will support the company's local partnership with the Navy's Strategic Systems Programs and efforts to carry out weapon system testing and sustainment services in the Florida Space Coast region.
Lockheed looks to have close to 720 employees in Brevard County for the Fleet Ballistic Missile program by 2017.
(Pictured in photo): Captain Doug Williams, Missile Branch Head, U.S. Navy Strategic Systems Programs (center left), and Commander Jim Scalzo, Executive Officer, Naval Ordnance Test Unit, cut the ceremonial ribbon of a newly-updated facility at Cape Canaveral Air Force Station, Florida, on Jan. 4. Eric Scherff (left), Lockheed Martin Vice President of Fleet Ballistic Missile Programs, and Karin Jamison, Lockheed Martin Director of Test & Support Products and Eastern Range Site Lead.