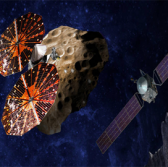 Johns Hopkins University Applied Physics Laboratory has been chosen to supply instruments to NASA for a pair of Discovery-class missions that aim to explore asteroids that might help scientists understand the earliest history of the solar system.
APL said Friday it will develop a high-resolution telescopic camera to support the Lucy  mission, which will observe six primitive asteroids that orbit in tandem with Jupiter.
The lab will also provide a gamma ray and neutron spectrometer to help the Psyche mission detect, map and measure the elemental composition of the 16 Psyche metallic asteroid in the main asteroid belt between Mars and Jupiter.
"Psyche is one of the few remaining unexplored frontiers of our solar system," said David Lawrence, Psyche GRNS instrument and investigation lead.
Lawrence added that the data collected from APL's GRNS will help ongoing efforts to research regarding mysteries of the world.
APL will base the instrument to be used for the Lucy mission on the Long Range Reconnaissance Imager technology that helped NASA's New Horizons spacecraft take detailed, close-up views of Pluto and its moons in 2015.
The Psyche GRNS instrument is based on a GRNS the lab previously developed for the Mercury Surface, Space Environment Geochemistry and Ranging mission under the Discovery program.