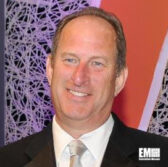 John Borghard leads all public sector activities for global software company CA Technologies in the U.S. federal, state and local government markets along with those in Canada.
Borghard has held the role of senior vice president for public sector sales since April 2013 and is responsible for CA's push into technology areas such as cloud computing and virtualization.
He recently spoke to ExecutiveBiz for this wide-ranging conversation on CA's public sector activity over the past three years and the impact of its Rally Software acquisition on the government business, plus where agencies are prioritizing their cloud computing and cybersecurity efforts.
ExecutiveBiz: Which public sector area of CA's have you prioritized for attention in 2017?
John Borghard: We will continue to focus on cybersecurity, DevOps and agile throughout our engagements with government agencies. When CA talks about DevOps we mean the process of enabling agencies to be in a continuous delivery mode with a focus on government creating software to shape the future.
ExecutiveBiz: What aspects of CA's public sector business have seen the most growth over the past three years?
John Borghard: We've has seen growth throughout the public sector business across each of the verticals with the rising expectations of citizen demands to be online vs. inline. We have continued to focus on the areas of importance to our customers, both within their organization as well as customer-facing applications.
In state and local government, we have partnered with our customers in three key areas of their agency growth strategies: modernizing their infrastructure within DMVs and transportation, improving service delivery within Medicaid management family services and of course security across all aspects of citizen data. In federal, we have seen growth in healthcare, defense, intelligence and civilian agencies.
We are addressing key areas of customer concern – security, identity management and DevOps. We have been talking about the application economy and how government is being "rewritten by software" and we continue to stand with our customers with the future of enterprise software and the emergence of a new kind of organization built to change.
We have been a leader in advancing the solutions and technologies agencies need to transform government securely.
ExecutiveBiz: What new market footprints has Rally Software brought to CA?
John Borghard: Agencies at all levels of government are looking for ways to be more efficient and drive high quality solutions to constituents and citizens — available on all platforms. Our purchase of Rally has enabled CA the opportunity to provide our clients the consulting and coaching to build an agile IT organization by creating a culture of collaboration.
Rally has also brought the tools and techniques that are necessary to help our government customers achieve the promise of agile management.
ExecutiveBiz: How do you see agencies taking their cloud initiatives forward?
John Borghard: Cloud will continue to be a key strategy for government agencies. The cloud is a key strategy for government to reduce costs and deploy solutions more quickly. By coupling cloud initiatives with DevOps and agile – CA is uniquely positioned to help customers move to the cloud and become more agile as part of the process.
The application economy is transforming citizen demands and agencies"™ services with more modern IT management systems creating more efficient and effective tools than their previous legacy platforms.
ExecutiveBiz: Where should agencies focus their attention with respect to cyber?
John Borghard: Government agencies are under increased pressure to protect their citizen and employee PII data and critical applications from both internal and external threats. In addition, they must adhere to government mandates and manage the complexities and growing costs of risk management and compliance.
Governments need to focus on preventing breaches by protecting data at all access points, defending users with multi-factor authentication and simplifying access management.