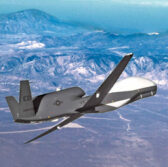 A report from IHS Markit forecasts that sales of unmanned ground, sea and aerial vehicles will increase through 2025 as military organizations increasingly use such platforms to conduct missions.
IHS Jane"™s predicts 63,000 new unmanned aerial vehicles will be sold from 2016 to 2025 and surpass $82 billion in global sales during the 10-year forececast period, IHS Markit said Monday.
"We are seeing increased focus on cost-effective and flexible systems, as well as smaller and more efficient sensors and communication systems," said Derrick Maple, principal analyst for unmanned systems at IHS Jane"™s.
IHS Jane"™s also forecasts the unmanned ground vehicles market to reach $800 million in sales by 2025 from $200 million in 2016, with 30,000 UGVs projected to be delivered between 2016 and 2025 to replace militaries' old systems.
The research firm also estimates that sales for unmanned sea vehicles will increase from $400 million last year to  more than $900 million by 2025.