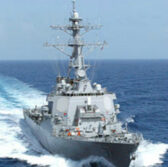 Huntington Ingalls Industries' Ingalls Shipbuilding division has started to fabricate an Arleigh Burke-class guided missile destroyer for the U.S. Navy at the company's shipyard in Mississippi.
The Lenah H. Sutclifee Higbee destroyer represents the fourth of five vessels Huntington Ingalls will build for the military branch's DDG 51 program as part a contract awarded in 2013, the company said Thursday.
Brian Cuccias, Ingalls Shipbuilding president, said that HII has delivered 29 destroyers to Navy and the company's production line works to accelerate  the shipbuilding process.
The service branch named the destroyer under construction after Lenah Sutcliffe Higbee, a former Navy Nurse Corps superintendent and the first woman to receive the Navy Cross.
Ingalls Shipbuilding is also constructing the destroyers Ralph Johnson, Paul Ignatius, Delbert D. Black and Frank E. Petersen Jr.
Johnson is scheduled to undergo sea trials and be delivered to the Navy this year.
The service branch plans to christen Ignatius on April 8 and launch Black later this year.