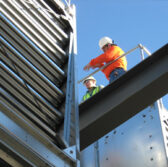 The General Services Administration has begun to solicit proposals from small businesses that can provide repair and alteration construction services for government owned and leased facilities in New York.
GSA plans to award two $30 million multiple-award, indefinite-delivery/indefinite-quantity contracts that will each contain a one-year base period and four option years.
The agency will award up to five positions under an IDIQ contract that will require R&A support for government buildings located in New York City, Staten Island and Bronx, according to a FedBizOpps notice posted Tuesday.
Locations include the Jacob K Javits Federal Building, Court of International Trade, Ted Weiss FB, Daniel Patrick Moynihan Courthouse, Thurgood Marshall Courthouse, Silvio Mollo FB and the Alexander Hamilton Customs house, among others.
A separate FedBizOpps notice says the GSA will also select up to five small businesses for another IDIQ that will cover R&A services for government facilities in Brooklyn, Queens and Long Island.
The facilities include the Emmanuel Cellar U.S. Courthouse; General Post Office at 271 Cadman Plaza; Roosevelt U.S. Courthouse; Joseph Addabbo FB; Alfonse D'Amato Courthouse; IRS Service Center in Holtsville and all leased locations across Brooklyn, Queens and Long Island.
Task orders under both contracts will require general construction, painting, carpeting, walls and framing, demolition, carpentry, electrical work, ceilings, plumbing and heating, ventilation and air conditioning work.
GSA will hold pre-proposal conference for both solicitations on Jan. 12 at 26 Federal Plaza in New York City.
Interested vendors can submit proposals for the IDIQs until Jan. 24.