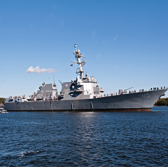 The U.S. Navy's Board of Inspection and Survey has recommended the General Dynamics-built USS Rafael Peralta guided missile destroyer to join the Navy fleet after the ship completed its acceptance trials.
USS Rafael Peralta will be delivered to the Navy in February and will depart from the company's Bath Iron Works shipyard in the spring to join 34 other Arleigh Burke-class destroyers in active service, the company said Wednesday.
Bath Iron Works is also in the process of constructing the future USS Thomas Hudner, USS Daniel Inouye and USS Carl M. Levin Arleigh Burke-class destroyers for the military service.
USS Rafael Peralta, which was named after a posthumous Navy Cross recipient who was killed in combat in Iraq, is the first Arleigh Burke-class destroyer that the shipyard has built following a four-year program hiatus.