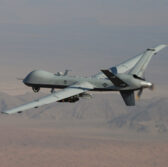 General Atomics' aeronautical systems business unit has secured a two-year, $56.7 million order from the U.S. Air Force as part of an existing foreign military sales deal to expand Spain's current fleet of MQ-9 Reaper unmanned aerial vehicles.
The Defense Department said Wednesday that General Atomics Aeronautical Systems Inc. will also provide associated UAV equipment under Spain's MQ-9 Exportable Block 5 Procurement program.
The Air Force Life Cycle Management Center serves as the contracting activity to this award which covers work to be performed by GA-ASI at Poway, California through Jan. 31, 2019.
Spain ordered four MQ-9s last year through a $243 million FMS deal the State Department cleared in 2015.