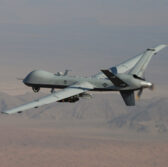 General Atomics' aeronautical systems business will provide Phase 1 logistics support for MQ-9 Reaper unmanned aerial vehicles to France under a one-year, $24 million delivery order from the U.S. Air Force.
The order comes under a foreign military sales contract and work will occur in Poway, California, through Dec. 31, 2017, the Defense Department said Thursday.
The Air Force Life Cycle Management Center is the contracting activity.
General Atomics Aeronautical Systems Inc. was awarded $349 million contract by the Air Force last month to provide various support services for MQ-9 and the MQ-1 Predator UAVs.