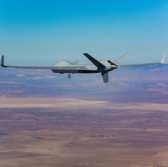 General Atomics' aeronautical systems business has introduced a "type-certifiable" version of the Predator B remotely piloted aircraft designed to operate under airworthiness requirements of non-military airspace.
General Atomics said Friday it showcased the SkyGuardian RPA to an audience of international dignitaries from nine nations.
SkyGuardian is designed to also comply with NATO and U.K. airworthiness requirements.
"The SkyGuardian name reflects the system"™s role in protecting ground forces, as well as its performance of non-military missions like border-surveillance, maritime patrol, and relief over-watch in cases of natural disaster," said Linden Blue, CEO of General Atomics Aeronautical Systems Inc.
The GA-ASI team currently builds two airframes and three company-owned aircraft to support full-scale fatigue and static testing for type-certification requirements as part of efforts to facilitate qualification testing as well as meet a 2018 delivery schedule for the first production aircraft.
The German military aviation authority also worked with GA-ASI to define airworthiness requirements for the German airspace.
SkyGuardian also has the capacity to host various sensor and communications payloads as well as transmit video to manned aircraft and ground forces, General Atomics said.
GA-ASI also developed a maritime patrol RPA called the SeaGuardian to gather open ocean and littoral surface surveillance in support of border patrol, coast guard and disaster relief missions.