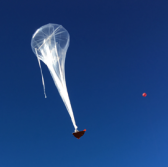 The Federal Aviation Administration has conducted a flight test of a Near Space Corp.-built drone to evaluate how FAA's surveillance tools could help the agency detect and monitor the return of commercial spacecraft through the National Air Space.
NSC used a stratospheric balloon platform to launch and deploy the High Altitude Shuttle System at Tillamook Test Range in Oregon and carried out the test flight in October under the unmanned aircraft system certificate of authorization that FAA issued in August, NASA said Thursday.
NSC CEO Tim Lachenmeier said the UAS COAÂ provides the firm an opportunity to support testing of new technology platforms for the commercial space sector.
The HASS drone that carried FAA's surveillance tools was released at an altitude of 70,000 feet to simulate the spacecraft's return and entry into FAA's class A airspace.
FAA monitored the drone and its descent to the launch site through its air traffic control center in Seattle.
NASA's space technology mission directorate funded the test of FAA's surveillance systems through the Flight Opportunities program managed by the space agency's Armstrong Flight Research Center in Calfironia.
NASA's Flight Opportunities program uses stratospheric balloons and commercial suborbital platforms to evaluate flight technology systems.