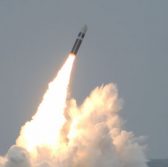 The U.S. Navy has awarded Charles Stark Draper Laboratory a five-year, $53.5 million contract to produce the MK 6 guidance system for Trident II D5 fleet ballistic missiles.
Draper Lab will also support failure verification, test, repair and recertification of inertial measurement units, electronic assemblies and electronic modules under the contract, the Defense Department said Thursday.
Work will occur in  Minneapolis, Minnesota; Clearwater, Florida; and Cambridge and Pittsfield, Massachusetts, through Jan. 30, 2021.
The full obligated amount at the time of award is from the Navy's fiscal 2017 weapons procurement funds and the U.K. government.