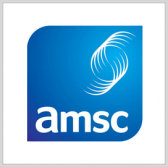 AMSC has received a $4.5 million contract to research and develop a superconductor wire for the Energy Department's Office of Energy Efficiency and Renewable Energy under the DOE-run Next Generation Electric Machines program.
"This work with the DOE is complementary to our efforts to enable the U.S. Navy"™s Electric Ship objective and will allow our team to continue to develop wire technology focusing on specific system level applications like motors and generators for naval ships," AMSC President and CEO Daniel McGahn said in a statement released Tuesday.
"We expect that this funding will enable us to continue advancing wire technology specifically for rotating machines for the fleet," McGahn added.
AMSC and Northrop Grumman tested a 36.5-megawatt high temperature superconductor ship propulsion motor at the Navy"™s Integrated Power System Land""Based Test Site in Philadelphia in 2009.
AMSC also demonstrated an HTS cable system in partnership with American Electric Power and DOE in 2006 and commissioned the world"™s first HTS power transmission cable system in a commercial power grid in collaboration with Long Island Power Authority and DOE in 2008.
In the same year, the company delivered HTS degaussing coil system parts to the Office of Naval Research and the Naval Surface Warfare Center Carderock Division Ship Engineering Station Philadelphia for electrical testing onboard the USS Higgins.
The succeeding years marked AMSC's commercial deployment of HTS power systems in coordination with several industry partners.
DOE's Office of Energy Efficiency and Renewable Energy selects projects to fulfill modern material and design requirements for building electric motor components.