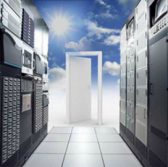 Smartronix has secured a task order through a National Institutes of Health-run information technology contract vehicle to provide on-site managed services to  the Defense Department.
The company said Wednesday it will deliver cloud services such as infrastructure-as-a-service and platform-as-a-service to DoD and department-approved mission partners on premises.
Smartonix received the order under the Chief Information Officer""Solutions and Partners 3 governmentwide acquisition contract managed by the NIH's Information Technology Acquisition and Assessment Center.
"We are proud to have the opportunity to leverage best practices developed across our business base to provide 'as-a-service' offerings to the DoD," said Smartronix CEO John Parris.
Smartronix will also collaborate with Dell Technologies subsidiaries Dell EMC, Virtustream and VMware to create a dedicated platform that will incorporate the Cloud Foundry industry-standard platform for cloud native applications.