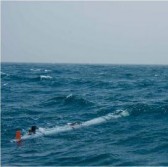 A Defense Science Board task force has published a report that describes ways to increase the capacity of U.S. undersea assets and manned platforms using unmanned systems.
The report titled "Next-Generation Unmanned Undersea Systems" explores how unmanned systems could disrupt adversary strategies and perform operations that are on hold due to lack of assets, Johns Hopkins University Applied Physics Laboratory said Tuesday.
JPL added the report also outlines four concepts for system employment as well as development and experimental programs that seek to validate the concepts.
Lisa Blodgett, head of APL's force projection sector, said the lab aims to build on the report's recommended concepts to help boost U.S. advantage in the undersea domain.
The report also indicates that commercial developments present opportunities to use current technologies and build targeted, mission-focused and cost-effective unmanned systems.
Ralph Semmel, an APL director, and James Shields, former president of Draper Laboratory, co-chaired the report.