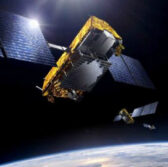 Iridium Communications' long-awaited next-generation satellite constellation will start to take form Sunday night when a SpaceX Falcon 9 rocket lifts off from Vandenberg Air Force Base in California.
An initial 10 NEXT satellites will enter space then to kick off a seven-launch campaign to deploy 10 space vehicles at a time in a process to replace each component of Iridium's current 66-strong constellation on a one-by-one basis.
Then by early 2018, Iridium NEXT is scheduled to function as an 81-satellite network for government and commercial customers with initial market availability scheduled for later this year to eventually fully replace the company's current 66-strong constellation.
Close to 10 years of planning, six years of development work and $3 billion in spending on Iridium NEXT has given CEO Matt Desch many reasons to look back on both the company's journey through its emergence from bankruptcy in 2000 and his experiences there since becoming chief executive in 2006.
"It's a very anxious, exciting, nervous and emotional time for a space CEO to see this come to fruition and get ready to see our 'babies' go up on the rocket," Desch told ExecutiveBiz in a briefing ahead of the launch.
The Falcon 9 explosion in September was a motivating factor in SpaceX's decision to delay the launch from the previously scheduled Dec. 16 date to this Sunday and was a move that Iridium endorsed, Desch said.
"There has been lots of waiting with the drama increasing. It's a very technically complex process and highly-choreographed to replace the existing satellites now and validate everything.
"But 15 months from now, we'll have a brand new network up for the next 15-20 years."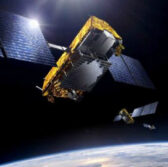 The impending start of Iridium's "NEXT" chapter also represents a time for Desch and the McLean, Virginia-based company to look ahead to their new era and what this new constellation can offer public and private sector customers.
"Our partners are excited to see the new services get online as the remaining current satellites don't have much more time," Desch said.
One-fifth of Iridium's revenue comes from U.S. government customers and the NEXT network will be available to users in the military service branches, other defense agencies and the National Park Service.
"We see it having lots of opportunities to meet many future government needs, and more broadly our polar-based customers will see a more dramatic service upgrade," he said.
NEXT is also a component of efforts by governments and businesses to help identify alternative sources of navigation to GPS in light of concerns about jamming and other security-related issues.
"It's a huge issue for many entities as they've built so many capabilities and communications networks around GPS. Everyone's nervous about what can be done to GPS signals but we think we have a unique solution to it."
Users will initially experience the capabilities of NEXT through the constellation's core broadband communications services that work to help connect moving trucks, ships and other commercial vehicles.
Iridium's Certus service will work to offer users voice, data and broadcast connections at 1.4 megabits per second through NEXT.
A second area Desch expects NEXT to contribute in at first is air traffic control through the company's Aireon joint venture in partnership with nonprofit organization Nav Canada, which runs that country's civil air navigation system;Â the national aviation authorities of Italy and Ireland; and Denmark's state-owned aviation control company Navair.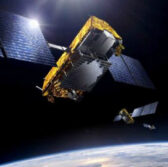 The Federal Aviation Administration here in the U.S. has also shown interest in Aireon's service that offers space-based automatic dependent surveillance – broadcast tracking of aircraft locations to air traffic controllers and streams additional information to cockpits with the ADS-B technology.
"Long-term we own 25 percent of that business, which we see as a $1 billion service down the road," Desch said.
There will come a time for Iridium to eventually develop a successor to NEXT and Desch forecasts this new constellation as an opportunity to help lift the company to become a "long-standing identity" in the communications sector.
"We'll get to do this again in 25-30 years and never worry about cash then as we work to become a communications institution and do it with a brand new platform."
As for now, a trip to Vandenberg awaits Desch to watch the first 10 NEXT satellites enter space and represent the start of Iridium's next chapter in a time he described as leaving him "very wistful" about where the company was when he first came on board.
"I wouldn't miss it, never been to a launch before so it will be my first one. I hope to enjoy it and see everything come to fruition personally."