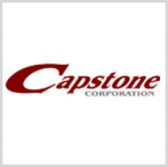 The National Institutes of Health's information technology acquisition and assessment center has novated an information technology support contract to Capstone after the company purchased an unnamed business.
Capstone said Wednesday it earned a spot under all 10 task areas of the potential 10-year, $20 billion Chief Information Officers – Solutions and Partners 3 government-wide acquisition contract via a business acquisition deal.
"This contract is aligned with Capstone"™s strategy to compete in the information technology, cybersecurity and health services markets across the entire Federal Government and to gain entry into new markets," said Bill Moore, Capstone founder and chairman.
CIO-SP3 covers IT support for the federal enterprise architecture, federal health architecture and the Defense Department's enterprise architecture.
The contract also offers services such as data center consolidation, cloud computing, health IT, mobility and cybersecurity.