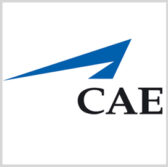 CAE has reported defense contracts worth a combined value of approximately $134.1 million that cover new simulation products, simulator updates and training support services for global military customers.
CAE said Tuesday the contracts include a deal with Babcock France to support pilot training of the French air force and orders from Airbus for a new C295 full-flight simulator to be installed at a training center in Spain.
The contracts also cover MH-60 Seahawk simulator updates and training support services for the U.S. Navy and U.K. navy.
"We have been Airbus' long-time training partner on the C295 program and are pleased we will continue to support the training required on this platform, which now will also include the Royal Canadian Air Force following Canada's selection of the C295 for its Fixed-Wing Search and Rescue program," said Gene Colabatistto, CAE group president of defense and security.