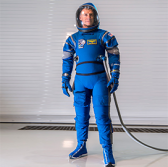 Boeing has introduced a spacesuit to be worn by passengers on spacecraft the company has built to support NASA's manned missions to the International Space Station and other low-Earth orbit destinations.
The Boeing Blue spacesuit future CST-100 Starliner crew is designed to increase pressurized mobility and weighs nearly 40 percent lighter than previously used spacesuits, the company said Wednesday.
"Spacesuits have come in different sizes and shapes and designs, and I think this fits the Boeing model, fits the Boeing vehicle," said Chris Ferguson, director of Starliner crew and mission systems at Boeing.
NASA awarded the company a potential $4.2 billion contract in September 2014 to ferry U.S. astronauts to and from the ISS as part of the agency's Commercial Crew Program.
Boeing Blue includes a pair of slip-resistant boots, touchscreen-friendly gloves that will work to help astronauts interact with the spacecraft's tablets and a headset equipped with communications headset to connect ground and space crews.
The company also fitted the suit's hood-like soft helmet with a wide polycarbonate visor to offer peripheral vision capacity throughout the passengers' ride.