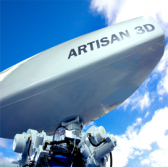 A BAE Systems-built radar system has completed three years of sea-based trials on the U.K. navy's Type 23 frigates and has been integrated onto a Queen Elizabeth-class aircraft carrier, landing platform dock assault ship and landing platform helicopter assault ship.
BAE said Wednesday it has also installed the company's Artisan 3D radar at the U.K. ministry of defense's land-based test site in Portsmouth, England.
Artisan 3D is designed to monitor more than 800 objects simultaneously from a distance of approximately 650 feet to 656,168 feet away as well as intercept radio interference equal to 10,000 mobile phone signals.
Les Gregory, director of products and training services at BAE, said the radar technology offers air and surface surveillance and target tracking capacity to support platform and weapon system requirements.
The company secured a $129 million contract to develop, produce and support 19 Artisan radars for the U.K. navy through 2022 and is scheduled deliver all the radars to the country's ministry of defense by mid-2017.
BAE added it will also install the Artisan 3D radar on the HMS Prince of Wales aircraft carrier as well as two more frigates and a landing platform dock assault ship.