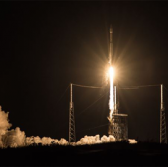 A third Lockheed Martin-built missile warning satellite launched atop United Launch Alliance's Atlas V evolved expendable launch vehicle Friday evening from the Cape Canaveral Air Force Station in Florida.
The Space Based Infrared System Geosynchronous Earth Orbit satellite is designed to provide battlespace awareness efforts of U.S. combatant commanders, intelligence organizations and allies globally, the U.S. Air Force said Friday.
According to Lockheed, SBIRS GEO Flight 3 launched at 7:42 p.m. Eastern time and began to respond to commands on the ground about 37 minutes later.
"With communications now established, our job begins to deliver SBIRS to its final orbit so we can complete deployments and operational testing in anticipation of the satellite's formal acceptance by the Air Force," said David Sheridan, vice president of Lockheed's overhead persistent infrared systems mission area.
The company added the satellite will deploy antennas, light shade and solar arrays once it reaches geosynchronous orbit nearly 22,000 miles above Earth.
SBIRS GEO Flight 3 is built to also deliver infrared data to the Air Force's Tools, Applications and Processing Lab in Boulder, Colorado.
Lockheed plans to conduct final assembly, integration and test of a fourth SBIRS satellite this year.