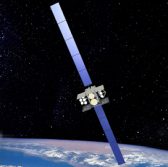 The Boeing-built Wideband Global SATCOM 8 satellite launched aboard a United Launch Alliance-made Delta IV rocket Wednesday to support global military communications.
WGS-8 is equipped with a digital payload technology designed to offer almost twice as much bandwidth capacity as previous WGS satellites, Boeing said Wednesday.
ULA said the satellite lifted off Wednesday from Space Launch Complex-37 in Cape Canaveral, Florida, at 6:53 p.m. Eastern time via a Delta IV Medium+ (5, 4) Evolved Expendable Launch Vehicle configuration.
Orbital ATK built the common booster core and solid rocket motors that powered the rocket.
Dan Hart, vice president of Boeing's government satellite systems business, said the U.S. government saved more than $150 million through the implementation of fixed-price block purchases and commercial operating methods for WGS-7 through WGS-10.
The U.S. Air Force contracted Boeing to deliver 10 WGS satellites.
WGS-9 is scheduled to launch in 2017 and funded through a partnership between U.S., Canada, Denmark, Luxembourg, the Netherlands and New Zealand.