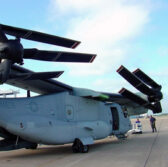 Technavio has released a new report that indicates the global military vertical take-off and landing aircraft market will reach a compound annual growth rate of nearly 4 percent from 2016 through 2020.
Technavio said Wednesday the market is segmented into military powered-lift VTOL aircraft and military rotorcraft VTOL aircraft market, with the former accounting for 70 percent of the total market as of 2016.
The report spilts the global military VTOL aircraft market into the Americas, Asia Pacific and Europe, the Middle East and Africa regions.
"The Americas occupy the largest market share in VTOL aircrafts, with the highest contribution from the U.S.," said Moutushi Saha, lead analyst at Technavio for defense research.
For example, the U.S. Air Force and Marine Corps use the V-22 Osprey aircraft "" a medium-lift, multi-mission tiltrotor aircraft built by Boeing and Bell Helicopter "" for various missions.
Saha added that VTOL aircraft development projects account for more than 80 percent of the U.S. military"™s investments and that Latin American countries also plan to invest in the market during the forecast period.
Technavio"™s report also forecasts Russia will dominate the EMEA market, whose CAGR Technavio projects at 4.48 percent due to development and procurement of aircraft that operate from bases and in combat zones.
In APAC, China represents the largest defense investments in VTOL aircraft with support from Russia in the transfer of technology used in Yak-141 supersonic VTOL fighter jet.
"With countries fighting for dominance, the market here will show the highest growth rate with a CAGR of 4.62 percent," said Moutushi.
The report cited Aurora Flight Sciences, Bell Helicopter, Boeing and Lockheed Martin as the tier-one vendors in the global military VTOL aircraft market.