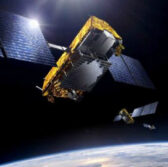 SpaceX has moved the launch of the first batch of satellites for Iridium Communications' NEXT constellation from mid-December to early January as the Elon Musk-owned company works to complete the investigation into the Sept. 1 explosion of its Falcon 9 rocket, Space.com reported Wednesday.
Mike Wall writes Musk had previously announced plans to resume flights in mid-December with the launch of 10 Iridium satellites.
The decision to reschedule the launch "allows for additional time to close out vehicle preparations and complete extended testing to help ensure the highest possible level of mission assurance prior to launch," SpaceX said Wednesday.
Iridium expressed confidence that SpaceX will facilitate safety delivery of NEXT satellites into low-Earth orbit, according to a report by Andy Pasztor for the Wall Street Journal.
The first 10 satellites were scheduled to launch Dec. 16 from Vandenberg Air Force Base in California onboard the SpaceX's Falcon 9 rocket.
Pasztor reported that Iridium expects SpaceX to perform six additional rocket launches to bring 60 more of its satellites into low-Earth orbit by early 2018.