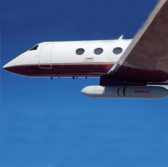 Triumph Group has secured a subcontract from Raytheon to provide 31 Servo Control System electromechanical components for the Waltham, Massachusetts-based contractor's new jammer technology for the U.S. Navy.
The Servo Control System includes four electromechanical actuators and a servo electronics unit to support the inlet and exhaust door actuators of the Next Generation Jammer Increment 1, Triumph said Wednesday.
Tom Holzthum, executive vice president at Triumph's integrated systems unit, said the system features the company's vertical integration functionality for electromechanical components.
The subcontract was awarded in support of the engineering and manufacturing development phase of the Navy's NGJ Inc 1 program.
NGJ is designed with beam-jamming tools and solid-state electronics to help deliver airborne electronic attack and jamming support to the Navy.