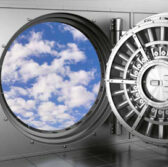 Palo Alto Networks has integrated its virtualized firewalls with the auto scaling and elastic load balancing platforms of Amazon Web Services in an effort to help joint customers secure their workloads.
The companies seek to help clients automatically scale cyber breach prevention tools as their cloud-based workloads fluctuate through the use of VM-Series firewalls in conjunction with AWS Lambda, CloudFormation Templates and Amazon CloudWatch services, Palo Alto Networks said Wednesday.
The security company also joined the AWS Competency Program for Security to help develop products and service offerings in the infrastructure security, policy management, identity management, security monitoring, vulnerability management and data protection areas.
Lee Klarich, executive vice president of product management at Palo Alto Networks, said the partnership aims to help customers manage their cloud environments and security posture across public and hybrid ecosystems.
The companies will demonstrate their integrated technology at the ongoing AWS re:Invent forum in Las Vegas.