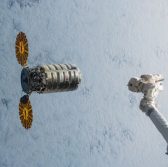 Orbital ATK has concluded its sixth cargo delivery mission to the International Space Station which also marked the company's return to flight operations at NASA's Wallops Flight Facility in Virginia.
The company said Monday the Cygnus spacecraft, nicknamed S.S. Alan Poindexter, has completed its re-entry into Earth's atmosphere as part of the OA-5 mission.
Cygnus arrived at the space station in October and delivered nearly 5,300 pounds of supplies, laboratory equipment and scientific experiments for ISS crew.
The spacecraft also performed Spacecraft Fire Experiment-II and deployed CubeSats to aid weather forecasting after the vehicle departed the ISS Nov. 21.
"We returned to flight operations at our home base in eastern Virginia, successfully launched aboard our upgraded Antares rocket and once again showcased Cygnus' dynamic versatility and value to serve as a platform for conducting science experiments and payload operations," said Frank Culbertson, president of Orbital ATK's space systems group.
NASA's Glenn Research Center designed the experiment while the space agency's Advanced Exploration Systems Division funded the mission, Orbital ATK noted.
The company added preparations for the next mission under the Commercial Resupply Services-1 contract are underway and OA-7 is currently expected to launch in the spring of 2017.