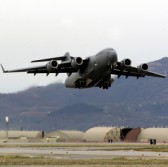 Northrop Grumman has commenced a demonstration of a distributed network virtual training environment between two simulator platforms of Australia's air force and the company's test lab.
Northrop said Tuesday the KC-30A Multi-Role Tanker Transport and C-17A Globemaster II simulators were utilized for the tests designed to determine operating standards required to meet standards similar to the U.S. Air Force Distributed Mission Operations Network.
"We are grateful for the opportunity to have worked closely with CAE and [L-3 Communications] on this important demonstration and … Northrop Grumman looks forward to the potential development of a persistent capability for the Australian [Defense] Force," said Ian Irving, chief executive of Northrop's Australia-based subsidiary.
CAE and L-3 helped conduct the tests that surveyed the Australian air force's air mobility group KC-30A, C-17A and C-130J Hercules transports to evaluate its operating standards compared to the DMON.