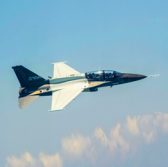 Lockheed Martin has completed an initial flight test on the joint offering between the company and Korea Aerospace Industries for the U.S. Air Force's advanced pilot training competition.
Lockheed said Thursday the company's facility in Greenville, South Carolina will serve as the final assembly and checkout facility for the T-50A aircraft that will train F-22 and F-35 pilots.
The company unveiled its South-Carolina based Advanced Pilot Training facility in August to house a ground-based training system along with tooling equipment that will support T-50A assembly.
T-50A has recorded more than 100,000 flight hours and trained approximately 1,800 pilots, the company added.