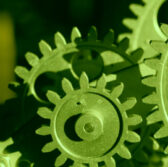 LiquidPiston has received a $2.5 million contract from the Defense Advanced Research Projects Agency to further develop a rotary engine under the first phase of a program that seeks to unlock the full potential of the company's hybrid cycle engine technology.
The project centers on development of the X4 test rig the firm designed to record a power-to-weight ratio of 1.5 hp/lb, up to ten times more powerful than standard diesel engines of the same weight, LiquidPiston said Tuesday.
"Our goal is to create a reliable X4 test rig that will support optimization of the X-engine architecture and the high-efficiency hybrid cycle," said LiquidPiston founder and CEO Alexander Shkolnik.
He added the company seeks to help reduce the military's logistical and carbon footprint as well as support the range and capacity of drones and other vehicles with the engine.
The technology will also work to increase the efficiency of generators or auxiliary power units for civilian homes, boats or vehicles, according to Shkolnik.
LiquidPiston previously secured a DARPA award to test a different rotary engine prototype.