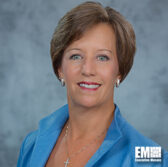 Rebecca Cowen-Hirsch, senior vice president for government strategy and policy at Inmarsat, has said budget issues with regard to the recapitalization of federal satellite communications platforms and a "fragmented" procurement model are some of the satcom challenges the U.S. government currently faces.
"The government should no longer follow a procurement model in which lowest price, rather than best operational value, is the winning element," Cowen-Hirsch told MilsatMagazine in an interview.
"This creates an abundance of ad hoc networks and solutions – with little thought given to affordability or efficiency and, even more important, interoperability and sustainability," she added.
Cowen-Hirsh noted that the inclusion of satellite services firms within the Joint Space Operations Center through the Commercial Integration Cell program is one of the initiatives that seek to build up partnerships between the government and industry, the company said Wednesday.
She discussed how satcom-as-a-service works to help military branches perform mission-critical functions through the provision of a global Ka-band service.
Cowen-Hirsh also offered updates on Inmarsat's plans to launch the fourth Inmarsat-5 satellite for the Global Xpress commercial Ka-band network, updates to the company's L-band service and development of the Inmarsat-6 satellite constellation.